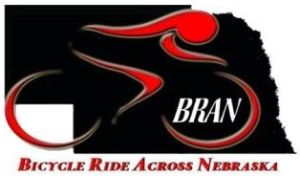 BRAN-2023
Event dates: Saturday, June 3rd, 2023 to Saturday, June 10th, 2023
Event Registration period: Sunday, January 1st, 2023 to Saturday, June 10th, 2023
In its 40years, BRAN has visited 93 Nebraska counties, developing a fine reputation and a broad base of support throughout Nebraska. Riders have had the wonderful opportunity to meet some great folks on the ride and across the state. Rural and urban peoples often don't get a chance to interact with each other. BRAN riders often remark about the beauty of Nebraska – both its countryside and its people.
PBV SERVICES on BRAN
Again for 2023! Pork Belly Ventures will now provide all bicycle and baggage transport for BRAN in 2022! PBV is very excited to have accepted an even larger role on Nebraska's oldest state ride! For 2022, PBV will provide thes services on BRAN
*Bicycle Transport from Wahoo to the start in Alliance on Saturday, June 4th. (new for 2022)
*Baggage Transport for all registered BRAN riders from overnight town to overnight town. This service includes loading and unloading baggage at each overnight town. Riders only need to bring their bags to the back of the baggage trailer and our crew will load/unload baggage. No more getting on the truck! (new for 2022)
*Charging Trailer usage for all BRAN riders. PBV will bring one of our dedicated charging trailers with lockers for charging your devices. (new for 2022) see this link PBV Charging Trailer
*Shower trailers in each overnight town for all BRAN riders. Soap, Shampoo, towel included in our private Air conditioned trailer with on-demand hot water. see this link PBV Shower trailers
*Charging for all E-bikes batteries for all e-bike riders. No additional charge for this service. (new for 2022)
And as usual PBV will offer the following optional services for BRAN riders (You sign up for BRAN at BRAN registration If you want the next level of comfort and convenience on BRAN, riders may sign up for additional PBV services.

PBV TENT SERVICE
Take the labor out of your cycling vacation. For only $390 plus tax, we will put your name on a 63 sq ft rental tent, complete with ground cloth and rain fly. The PBV crew does all the labor of set-up, take-down, and moving of bags (two bags per person) to and from the tent each day. Each morning, you pack up your bags and leave them inside your tent. When you ride into our next campsite, you'll find your bags inside your tent. We can place friends' rental tents next to each other, no problem. (The maximum number of tent occupants is two. Two occupants may share the tent and split the $390 price.)
PBV AIR-CONDITIONED PHAT ROOMS
Air-conditioned PHAT Rooms are the most luxurious accommodations offered by Pork Belly Ventures, allowing riders to enjoy hotel-style amenities without leaving the ride atmosphere. Each room is 8' X 10', with 9' ceilings, a window, and a door. Trailers are plugged into generators, so that a/c and electricity are available day and night. Each room has two upper twin bunks, one lower twin bunk, a sofa which can convert to a bed, and an optional twin trundle on the floor. The rooms have laminate floors and clad in knotty pine. Mattresses, linens, pillows, and extra blankets are provided. At the foot of each bunk, there's space for a duffel. Fans circulate cold air around the rooms. Switched lights are located in the ceiling and at the head of each bunk, and electrical outlets are conveniently located around the room for charging electronic devices. Each room sleeps up to five people. The room rate of $1500 can be divided among the room occupants.
Cancellation Policy/Refund Deadline: Prior to May 4th, in the event of cancellation, PBV will refund 90% of the amount of services reserved. On or after May 4th, PBV will make no refunds.