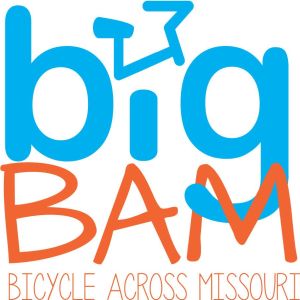 Missouri Double Cross 2021
Event dates: Sunday, August 29th, 2021 to Wednesday, September 8th, 2021
Event Registration period: Friday, January 1st, 2021 to Thursday, July 15th, 2021
All About
The Missouri Double Cross
On the Katy Trail
This ride is actually two five-day rides on the Katy Trail with a rest day in between. On the Missouri Double Cross, you can choose the First Crossing, the Second Crossing, or ride them both. We'll start the First Crossing in Clinton, Missouri, on August 29th, finishing in Defiance on Thursday, September 2nd. We'll rest on the 3rd—with options of cycling an additional segment of the Katy Trail or visiting local wineries all around Defiance. The Second Crossing begins on Saturday, September 4th, and ends on Wednesday, September 8th. The overnight towns are Clinton, Sedalia, Boonville, Jefferson City, Hermann, and Defiance. Ride five days, or for max mileage, you can make this a ten-day ride, or even an eleven-day ride if you cycle on the rest day.
The Vibe: End of summer is a glorious time on the Katy Trail, and this ride is an adventure. You'll set off each morning to encounter wildlife, high cliffs, cool tunnels, pastoral farmlands, and magnificent views of the wide Missouri River as you ride. For most of the route, you'll ride in the shade of a canopy of trees. In camp, you'll have all the amenities that PBV can offer—hot, private showers, morning coffee, phone-charging, lovely campsites, a cheerful crew to serve you, shady social zones throughout camp, a friendly front desk, and more. This ride is all about appreciating natural beauty and enjoying the camaraderie of fellow riders, to say nothing of the warm hospitality of our Missouri host towns.
The Route: Daily route maps will be provided on this ride, with information about places to eat and drink along the way, and the must-see spots in your overnight towns. We will provide a refreshment stop each day on the trail in a place where you'll be happy to see us.
The Towns: The Katy Trail overnight towns have gone out of their way to welcome our riders, providing beautiful campsites and shuttles in each place. Each has a different personality, but all of them enjoy greeting the visitors who find them via the Katy Trail. While we can often arrange an in-camp breakfast, riders will enjoy lunch on the trail and dinner in our friendly overnight towns. Sometimes a food truck will be located right in camp, and often restaurants are within blocks of our campsites. The overnight towns do a wonderful job of providing transportation around their communities. Fair warning—you'll find a surprising number of wineries, breweries, and distilleries along the Katy Trail.
The Cycling: Cycling days vary between 37 and 52 miles each day on a crushed limestone trail. The inclines are slight on this rail-trail, and we would rate this ride as fairly easy, but a little training will be important. Skinny tires are not appropriate for the trail, but you don't need a special bike if your road bike can accommodate a slightly larger tire.
The Options:
You can bring your tent or rent ours.

We will offer PHAT rooms (motel rooms on semi-trailers) that can accommodate 1 to 5 room occupants. The optimum number is 2 or 3 occupants.

If your friend or partner isn't riding, bring an RV if you like--we'll find out more about any electrical hook-ups in our campsites and update this information.

Registered non-riders are welcome to bring a car and stay with us in the overnight towns. (Of course, cars are not allowed on the actual trail, but you can meet up with riders in pass-through towns.)

If there's a demand for a St. Louis airport shuttle before and after, we'll make that happen.

You can park at one end of the trail or the other. Shuttles will be provided.
Options, Schedule, and Pricing:
Gathering Day

is

Saturday, August 28, in Clinton, Missouri.
THE WHOLE DOUBLE CROSS OPTION!
$540 per person entry fee
Park in Clinton and pedal to Defiance and back again.
Sunday, August 29, to Wednesday, September 8,
with a rest day in Defiance on Friday, September 3.
First Crossing Only--$295 per person entry fee
Sunday, August 29, to Thursday, September 2, Ride West-to-East, Clinton to Defiance
Return Shuttle for First Crossers

,
Defiance to Clinton parking lot on Thursday:

$139 pp
Rest Day for Double Crossers!
On Friday, September 3, if you want bragging rights for having ridden the entire Katy Trail, today you can shuttle out to Machens or St. George and pedal back to Defiance. OR take it easy and visit the wineries in the Defiance area!
Enter-Shuttle for Second Crossers
On Friday, September 3, shuttle from Clinton long-term parking to Defiance:

$139 pp
Second Crossing Only--$295 per person entry fee
Saturday, September 4, to Wednesday, September 8,
Ride East to West, Defiance to Clinton
One-Way Rental Tent

with air-mattress,

$250
Two-Way Rental Tent

with air-mattress,

$450
Our rental tent service includes the use of our 63-square-foot tent, roomy for one, cozy for two, with set-up, take-down, and all moving of bags to and from your tent throughout the tour.
Our PHAT Rooms give you a private, air-conditioned haven and a good night's sleep throughout your tour. PHAT riders unpack one time and enjoy their mattresses, linens, pillows, switched lighting at the head of each bed, fans, electrical outlets, convenient storage, knotty pine interiors with laminate flooring, and a little deck and couple of chairs for sitting out in the evening! These rooms are a real game-changer on any ride. We think 2 or 3 occupants is the optimum number, but as many as 5 may share a room and split the cost.
More to come on the entry fee, shuttle prices, inclusions, food and drink.