Tour De Nebraska 2021
Event dates: Wednesday, June 16th, 2021 to Sunday, June 20th, 2021
Event Registration period: Friday, February 19th, 2021 to Saturday, June 26th, 2021
Tour de Nebraska is a fully sagged 5-day annual bicycle tour of beautiful rural Nebraska. Founded in 1988, Tour de Nebraska provides a fun way for cyclists to experience the beauty and friendliness of rural Nebraska. People of all ages from nearly every part of the world have ridden Tour de Nebraska, and call it the most memorable adventure of their lives! It is also a great training ride for RAGBRAI.

Tour de Nebraska sags your gear, plots the most gorgeous route possible and takes care of meal and camping arrangements. You are truly on your own—no schedules, no deadlines, and no kids (unless you want to bring them)! All you have to do is pedal and enjoy the amazing scenery available only in Nebraska.

Tour de Nebraska is unique because it is only 5 days (Wednesday-Sunday) and a circle tour, which means riders enjoy the convenience of starting and ending at the same place. We also limit our ride to 500 riders, which allows for meaningful interaction between riders and the quaint communities we visit. Our size also allows our team to provide excellent service to each and every cyclist! Our daily mileage ranges from 45-70 miles, making Tour de Nebraska an especially perfect multi-day tour for first-timers or seasoned veterans! Many return year after year—that's why we say, "Tour de Nebraska is like a family reunion on wheels!"
Services available from Pork Belly Ventures LLC for the 2020 Tour de Nebraska:
PBV COMFORT PACKAGE
on Tour de Nebraska
How about Morning Coffee, Phone-Charging, and a Hot Shower Every Day during your Tour de Nebraska?
Now included in your registration for TDN, Enjoy the Comfort Package of Pork Belly Ventures!
Your Comfort PackageIncludes:
Your daily shower on an air-conditioned trailer with a private dressing area, shampoo and soap dispensers, and endless hot water. Our crew cleans shower stalls frequently throughout the day, and showers are available until early evening. Unlike many portable shower operations, PBV showers allow you to keep your stuff with you and it stays dry in your dressing area.

Our phone-charging trailer is plugged into a smooth-flow generator, safe for electronic devices. Bring your own lock to secure your device in a charging compartment. This trailer is locked overnight, but the generator keeps on running.

Enjoy fresh-brewed coffee in camp each morning. Nothing gets you going like a hot cup of Joe.

Your PBV comfort package is now included in your weeklong registration for TDN. (Some 2020 holdover registrations will not include the service but it can still be added for $30!)

Thanks for using our service!
Back again for this year! PBV PHAT Rooms
on Tour de Nebraska $1500
This service includes five nights in our air-conditioned PHAT rooms. Rooms sleep up to five people. Rooms are outfitted with laminate floors, mattresses, linens, pillows and extra blankets as well as switched lighting, electical outlets, an fans to circulate cool air throughout the room. The room rate of $1500 can be divided among the room occupants. Rooms are provided Tuesday night through Saturday night. Questions about this service? Feel free to call Pete Phillips at 402-681-2613 or email petephillips@cox.net. See this link for a video of our PHAT rooms.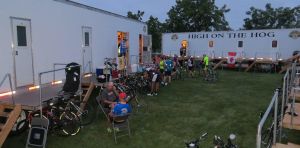 Cancellation Policy/Refund Deadline for Tour de Nebraska: Prior to May 16th, PBV will refund $1350 (for PHAT rooms) in the event of cancellation. On or after May 16, PBV will make no refunds.