Dynamic Disc Open
Event dates: Tuesday, April 27th, 2021 to Sunday, May 2nd, 2021
Event Registration period: Sunday, February 28th, 2021 to Saturday, May 1st, 2021
The Dynamic Discs Open (also known as the DDO or formerly known as the Glass Blown Open) is one of the world's largest disc golf tournaments. This event is held annually in Emporia, KS and brings thousands of competitors, spectators, and families to the local area. Events during the week-long festivities of DDO include, but are not limited to disc golf tournaments, disc dyeing workshops, bonfire, block party, live music, and more!!! Emporia's community has top notch support for the disc golfers that come from all over the US and the world!
PBV PHAT Rooms
Available for the 2021 Dynamic Disc Open
Want to stay in Emporia at the Lyon County Fairgrounds and be in the center of all Dynamic Disc Open venues? New for 2021, in cooperation with the event organizers and the Lyon County Fairgrounds, Pork Belly Ventures LLC will be offering our PHAT trailers (Pretty Hot and Tempting!) available for participants and their families so that you can stay in Emporia and not have to drive in from surrounding communities. This service includes five nights in our air-conditioned PHAT rooms, beginning Tuesday, April 27th and ending Sunday morning May 2. Rooms sleep up to five people. Rooms are outfitted with laminate floors, mattresses, linens, pillows and extra blankets as well as switched lighting, electical outlets, an fans to circulate cool air throughout the room. The room rate of $725 (for all 5 nights) can be divided among the room occupants. Rooms are provided Tuesday night through Saturday night. While the rooms do NOT have plumbing, PBV will have one of our shower trailers also located on the Fairgrounds and will available for use for no charge for anyone staying in the PHAT room. Questions about this service? Feel free to call Pete Phillips at 402-681-2613 or email petephillips@cox.net. See this link for a video of our PHAT rooms.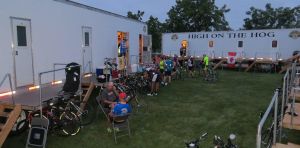 Cancellation Policy/Refund Deadline for Dynamic Disc Open: Prior to March 21st, PBV will refund $675 (for PHAT rooms) in the event of cancellation. On or after March 22nd, PBV will make no refunds.
Log in or Register